John Easson Award winner Ewan Tindall begins his challenge for the 2020 BTRDA Rally Championship in North Wales this weekend.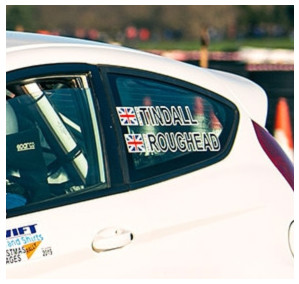 The talented 18-year-old from Newcastle-Upon-Tyne is seeded at car 53 in his Fiesta R2 on Saturday's Cambrian Rally. With a new car and a new co-driver – Andrew Roughead – the all-gravel event will be the start of a new learning curve for Tindall.
"I've never done the Cambrian before, and never driven the Fiesta in anger on the loose, so it'll be a steady start", he said. "The stages are likely to be wet and slippery, probably fairly rutted by the time we get to them, so our plan is to settle in, get a feel for the car, particularly as it is left-hand drive, and see how our pace matches up with everyone else in the R2 Cup class. Most of the R2 contenders are seeded between 50 and 60, so we'll be in good company, and be able to keep a close eye on their progress. I'm very happy to have Andrew Roughead alongside me. He's a vastly-experienced co-driver who I'm sure will help me develop as a driver."
Ewan and his dad Lee have been working flat-out for the last two weeks preparing the new car, which included completely rebuilding the gearbox. Said Ewan: "We had hoped to be able to do a gravel test before the Cambrian, but it's not been possible. Most of the others have already been out testing, so we are on the backfoot slightly. But championships are never won on the first round!"
The 2020 Cambrian Rally starts in Llandudno at 9am with seven stages in North Wales before the finish back on the Promenade around 4pm. For spectator information visit www.cambrianrally.co.uk
Ewan and Lee Tindall would like to thank Nick Dixon for the gearbox rebuild, and Ian Peake, Ian Gillespie and Matt Edwards for their assistance, and the 2300 Club of Blackburn.