The 2300Club Newsletter Issue1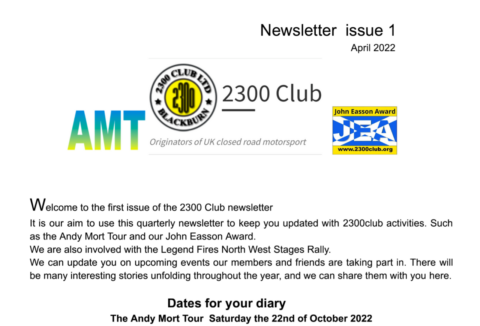 You have arrived at the website for the 2300 Club. We are a group of motor sport enthusiasts based in Blackburn, England. To access specific areas of the site, please use the links under the picture above.
From 1969 to 2009, each year in October, we used to organise a car rally on the Isle of Mull in the Scottish Hebrides (The "Tour of Mull"). The last event we organised in 2009 was the 40th Tour of Mull, sponsored by Tunnock's. For 2010 the reins were taken over by a group of enthusiasts based on the island at Mull Rally
Since 2004 to present day, 2300 Club award and administer 'The John Easson Award'. A cash prize awarded to a junior rally driver / co-driver, to help fund a season of rallying. Many of the previous recipients of this award have gone on to achieve some great results, including a European Rally Champion.
Since 2016 to present day, 2300 Club run 'The Andy Mort Tour' in October. In Memory of former club member Andy Mort, who sadly died in an accident on the 2015 Mull Rally. The event is classed as a Touring Assembly, with tulip navigation or the option of using map references. It is a gentle run around the lanes of Lancashire / Yorkshire. There have been some special guest appearances over the years, from Daniel Barritt who Co-drove Elfyn Evans to their 2017 Wales Rally GB win, the previous weekend. In 2019 we were lucky enough to have Sir Paddy Hopkirk and his fabulous Mini's with us for the Day.
In 2019 2300club were tasked with providing a 000 safety car team on the Legend Fires Northwest Stages Rally. This was the first time the rally had used closed roads, which utilised the recent legistration change where by local councils have the power to close roads and suspend the road traffic act for motorsport. This created the opportunity for The North West Motorsport Group to put on a fabulous closed road rally, based in Garstang. The 2300 club team had to draw on their vast experience of closed road rallying, this time on these incredible stages in the lanes of Lancashire. This first event was a great success, and the 2300club are looking forward to supporting the LFNWS into the future.