Johnnie Mackay our 2022 John Easson Award Winner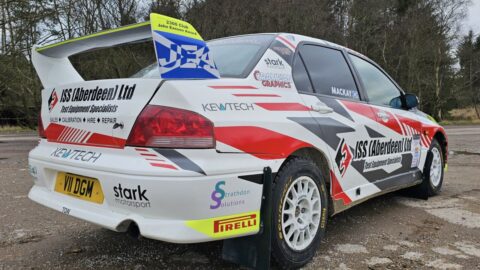 Championship: Scottish Rally Championship – SRC Challengers
Round 1 AM Phillip Trucktech Snowman Rally — DNF — Propshaft
Round 2 The McDonald and Munro Speyside Stages – !st in Class m6 – 26th o/a In-car Video
Highlights Video
Round 3 The Jim Clark Reivers Rally — DNF — Electrical & Clutch
Round 4 Dunoon Presents Argyll Rally – 1st in Class m6 – 25th o/a. In-car video
Round 5 RSAC Scottish Rally – 25th o/a 3rd in class
Round 6 The Voyonic Grampian Rally – 27th o/a 3rd in class In-car video
Round 7 Armstrong Galloway Hills Rally – DNF – Radiator in-car video
Round 8 Carlisle Stages – 13th o/a – 1st in Class M6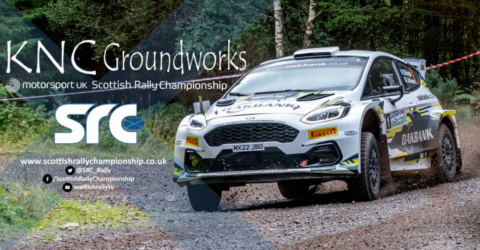 JEA Latest News
The 2023 John Easson Award Winner announced….. read more
Top Ten Triumph for Johnnie Mackay at Kinloss…. read more
Final fling for Johnnie Mackay this weekend….. read more
The 2023 JEA Finalists….. read more
Johnnie Mackay wins Scottish Championship M6 class title…..read more
Johnnie Mackay takes on the Carlisle Stages…... read more
Promising pace for Johnnie Mackay on Galloway Hills Rally….Read more
Johnnie Mackay heads for the Hills……… read more
A day of promise on the Grampian Rally for Johnnie Mackay…… read more
Home rule for Johnnie Mackay on the Grampian Rally….. read more
Gear gremlins spoil Johnnie Mackays Scottish Rally….. Read here
Johnnie Mackay's top class showon Argyll Rally….read more
A day to forget for Johnnie Mackay…… read more
Johnnie Mackay takes on the Jim Clark Reivers Rally….read more
A Class Win for Johnnie Mackay….. read more
Johnnie Mackay starting round 2 in a confident mood….read more
Johnnie Mackay digs deep for super second……read more
Single Venue test for Johnnie Mackay……. read more
Early exit for Johnnie Mackay on the Snowman Rally….read more
Johnnie Mackays Scottish Evo-lution…..read more
Johnnie Mackay is in for a testing year of rallying…..read more
2022 John Easson Award Winner is………..Johnnie Mackay……read more
2022 John Easson Award Finalists unveiled…….read more

What one motor club is doing to help British Rally Drivers – DirtFish
2300 Club presents:
The John Easson Award 2023
The 2300 Club is proud to announce the details of the 2023 John Easson Award for young rally drivers and co-drivers.
First run in 2004, the Award is named after rally driver John Easson, a regular competitor and a generous supporter of the 2300 Club before tragically losing his life in an air accident in 1999.
As the UK's number one free-to-enter cash prize award, the JEA will once again continue the successful format of assisting a young British competitor with financial support in pursuit of their career.
The award is open to drivers and co-drivers from all disciplines of rallying, irrespective of experience.
On offer is £5,000 to the winner, and an extra bonus payment of £1,000 if they win the overall class award on their selected championship.
And new for 2023, the winner will also be invited to a test session with JEA scheme manager and mentor John Cope, in his own Fiesta R5.
"This should be a great experience for any aspiring competitor. The winning candidate will learn from John's extensive experience of car set-up, and it's also a great opportunity for candidate and mentor to learn from each other," said club chairman Neil Molyneux.
The prize fund will be allocated in stage payments to pay for entry fees, which the committee feel will help ease the financial burden placed on a young driver or co-driver during their season.
The bonus prize of £1,000 is also seen as a huge help in kick-starting their 2025 rally season.
The final selection process will see the top three applicants being invited to an informal interview with a panel of judges who will then decide the overall John Easson Award winner.
The club will be again be offering £750 each to second and third place.
The JEA is huge reward for only a little effort, free to enter and open to all drivers or co-drivers who fit the following criteria:
Age under

27

on the 31st of October 2023, Resident in the British Isles, including Northern Ireland, Isle of Man, Channel Islands

Holder of a MSUK competition Licence.

Entries open on the 1st of September 2023 and close at midnight on the 31 October 2023
Drivers / Co-drivers who wish to enter should send the following details as a minimum to the Award scheme manager:
A current motorsport CV outlining experience and results to date

A covering letter explaining why the panel should select them as winner and their aims for their future in rallying

A reference letter from any third party
Entry presentations can be as inventive and detailed as an applicant wants to make them; the above criteria are a minimum and we always look forward to receiving some interesting presentations!
Applications from previous applicants are always welcomed, and it should be noted many of our winners have been previous applicants.
Entries should be sent to the John Easson Award Manager, John Cope at the address below:
John Easson Award
John Cope
The Meadows
15 Owlerbarrow Road
Bury
BL8 1RD
For Further Information Email jcope4@icloud.com
Previous JEA winners:
2004: George Collister, Isle of Man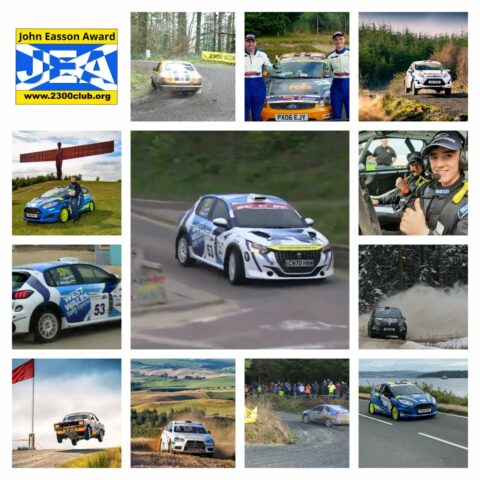 2005: Stevie Brown, Scotland
2006: Ryan Borthwick, Scotland
2007: Alick Kerr, Scotland
2008: Philip Scholes, England
2009: Mark McCulloch, Scotland
2010: Sara Williams, Wales
2011: Osian Pryce, Wales
2012: Matt Griffin, England
2013: Chris Ingram, England
2014: Aaron McClure, England
2015: Matthew Jackson, England
2016: Sam Bilham, England
2017: Tommi Meadows, England
2018: George Lepley, England
2019: Ewan Tindall, England
2021: Ioan Lloyd, Wales
2022; Johnnie Mackay
2023; Emily Easton-Page
2024: ?.. It could be you !
For further information: Email: jcope4@icloud.com