The 2300 Club of Blackburn will pay a moving tribute to a much-loved and much-missed friend on this month's Andy Mort Tour.
Trevor Roberts, who sadly passed away last year, was a long-standing member of the 2300 Club, and a lifelong member
of Clitheroe and District Motor Club, fulfilling the role of chairman, and then president for many years.
Trevor and 24 FTE, his famous red-and-white Mini Cooper S – emblazoned with 'Mini Sport of Padiham 'down the sides – were a familiar sight on events throughout the North West during the 1960's and 1970's.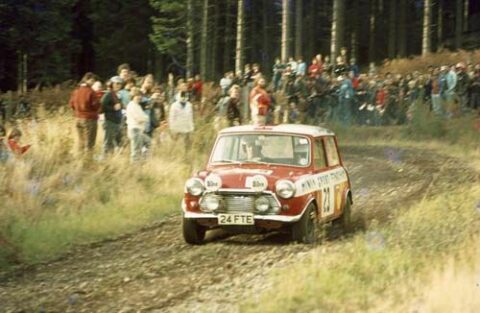 He was also a well-known figure on the Tour of Mull Rally, competing and then latterly taking on the role of steward, where his wisdom and experience was put to good use.
When Trevor finally called time on his rallying career, 24 FTE was put into storage for many years.However, his long-time
sponsors Mini Sport undertook to restore the car last year, bringing it back to life in time to present back to Trevor in an emotional reunion shortly before he died.
Now the iconic little car will return to action on October 16, starting at car one to lead the 60-car field away on the 125-mile route.
It will be driven by Mini Sport's technician Michael Anderson, who was a friend of Trevor for many years, played a major role in its restoration, and was present when Trevor was reunited with his last-ever rally car.
He said: "I knew Trevor from my time at Primrose Garage, when I started as an apprentice in 1978 and he was the sales
manager. I had the pleasure of working on 24 FTE and followed his rallying career closely, "so it will be a very proud
day for me."
To make it a real family affair, Trevor's widow Ann has been invited by the 2300 Club to join president Joan Molyneux
in flagging the cars away from the start at West Bradford Village Hall.
And Trevor's stepson Wayne Pennock has also entered the event, driving a Rover Mini 1275cc with Toby Pennock
navigating.