Keith and Anne Nolan were delighted to receive the FAB Award for 'best presented car' at this year's (2022) Andy Mort Tour.
Keith said "we were shocked when our name was called out at prize giving". Having seen the line up of 60 cars for himself and knowing the standard was very high. And It was this that troubled our judges all day.
As the old saying goes 'There can only be one winner!'….. The owners of car 25, the old English white MGB GT needn't have been shocked. Our judges could see how this car was very well looked after, loved and cherished even. All this could be seen before meeting the owners. A very worthy winner indeed!
Keith told the 2300 Club that he had done all of the Andy Mort Tours apart from 2018. This was when his mother very sadly passed away at 6.30 on the morning of the event. Of course Keith withdrew his entry, only to find in a strange twist of fate that the route came past his house in Colne. So he went out to cheer-on all the passing entrants and was able to enjoy the event from the garden gate.
Our new FAB Award winners also told us how they got started in navigational rallies. Which happened to be in the early 90s with Keith's good friend and AMT regular Sean Holly. They took part in the Ilkley Jubilee a few times and some night events in Lancashire.
As we all know one thing leads to another and the pair moved on to more marathon events like LeJog. The first time in 1995, which was very eventful and Sean's mk2 Jag didn't fare very well with mechanical problems and sustaining some accident damage along the way. And a more straightforward run in 1997 in a Triumph TR4.
Fast forward to 2018 the pair are still the best of friends and using Seans MGA, Keith and Anne took part in an event in France. Along with Sean and wife Sarah in a Porsche. It was on this trip that Keith and Anne decided that they needed a classic car of their own.
With Sean's help the couple found their 1972 registered MGB GT freshly restored with an enthusiast in Burton-on-Trent. The car had covered 91000 miles and had a very good history. It was just what they were looking for and a sale was agreed, and they collected the car in October 2018. Now their adventures could really begin!
The two couples have since taken on a Tour of Ireland, and many other impressive road trips. A few repairs and refinements were made to the MG over the next few years which keep the car in pristine condition, where it can be confidently used on long road trips and events to be enjoyed as it was intended.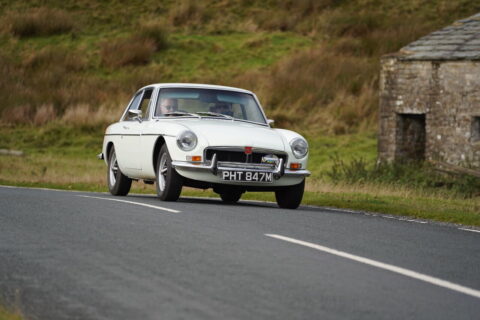 Anne is fairly new to navigational events, but nevertheless wanted to have a proper go at the Andy Mort Tour. They did however manage to get the correct route, get all the code boards, and get their timing correct all day. I must also say this couple were even a great sport at the special test "Chocks Away!!!" at the finish. Keith said "It's been great to see all the old faces from the past, The route has been fantastic, but to win the FAB Award just capped off a wonderful day!"