Paul Tattersall knows all to well that finishing this event on foot, walking away from a stricken car at any point of the circuit is a real possibility. This being Pauls third time competing at this seriously unforgiving race track. His experience here is building steadily, fine tuning the braking zones, knowing where he can push a bit harder. In the aim of bettering eighth place from last years main race at the Grand Prix de Monaco Historique. Equally his experience tells him that things can go seriously wrong in a split second. Having seen and just missing many accidents and broken down cars in the previous years he has raced here – Hence the nerves.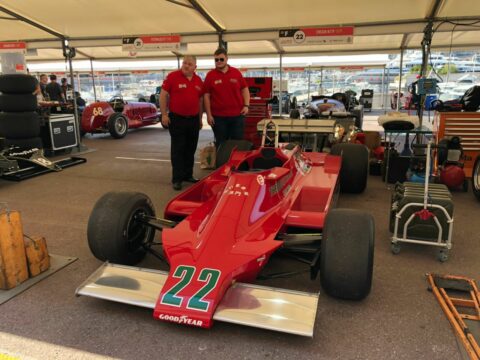 Paul and his team consisting of his brother Nick and his nephew Gareth – "a real family affair", had all day to prep the Ensign N179 F1 – ex Derek Daly car on Friday. Their practice session F wasn't until 6.30 in the evening. This wouldn't help the nerves. " I'm Brickin it " said Paul. This practice session would also form the first test of the car since its rebuild by Paul, and pre-event setup by Bolton University.
Without to much drama on the warm, dry evening session where Paul used his usual calm measured approach to dial in some quick times. This proved the car and driver were ready.
On Saturday there was a real buzz and a great atmosphere around the paddock area. The weather nice and warm and everyone all excited for their qualifying session which were taking place all day for their various classes. Pauls session F was at 3.30pm and had plenty of time to prepare. "Aiming for a steady Qualifying" said Paul. Ignoring other 2300club members jovial advice of "flat out, drift the corners" .Rally boys eh!. No Paul would again take his steady approach.
The twenty five minute session was red flagged twice. Plenty of drama cars with broken suspension and a collision partially blocking the track. Even the professional drivers and teams get it wrong. But Paul managed to stay out of trouble getting faster and faster. Then it was nearly all over at St Devotes where Paul found his car facing the wrong direction. On coming traffic all missed Pauls spun out car. There was a gap in traffic and room to turn it round. He very quickly recovered the situation and carried on. "Had a spin at St Devote, luckily didn't hit anything. Phew!" said Paul who finished the session in twelfth position. A great result. "Ready for the race tomorrow" said Paul. He added "i don't think it gets any better than driving an F1 round Monaco on a Saturday afternoon – I'm very privileged"
Race day! Again there were races all day for the various classes. Paul would start his eighteen lap race F at 3.35pm. For F1 cars from 1977 to 1980.
On the warm up lap the Fittipaldi of Max Smith-Hilliard the pole man returned to the pits and would not feature in the race again.
When the lights turned green Paul got a good start, from twelfth place on the grid. Almost jumping the start, a cloud of smoke rose in front as two of the front runners collided momentarily with one car leaping into the air, and they were all away. Staying out of trouble Paul lost a few places in the opening lap but just kept going with a great drive working his way up the leader board. There were quite a few laps run under caution with no overtaking while stricken cars were moved. By lap 11 Paul had worked back up to 12th, lap 13 sitting in 11th by lap 15 Jamie Constable in the Shadow DN8 was behind Paul which placed him in 10th. Just three laps to go and on a charge, coming into Mirabeau Haute too hot, Paul was a bit too late on the brakes, running wide, the Ensign hit the wall relatively slowly. Damaging the front wing and suspension. The car couldn't go any further. Paul had to make his way down an escape lane on foot while the car was craned out of the way. With the rest of the field lapping under caution, no overtaking for the rest of the race. The winner was Michael Lyons in the Hesketh 308e, who drove a fabulous race. Paul was classified as finishing 11th.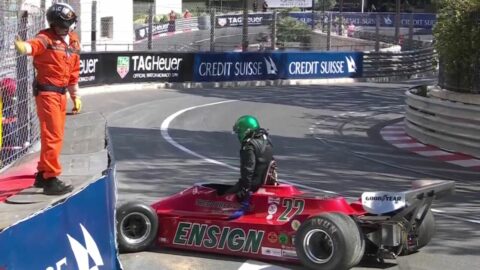 Thankfully Paul wasn't hurt in the accident, he is annoyed with himself but joked "So much for being last of the late brakers". After processing the events of the day, and a beer Paul commented "We had a great weekend and it was a mega thrill – just got to patch up the car and the pride now". Now for the best bit, Paul added "I had said to myself that this would be the last time I'd enter Monaco. . .but now i have unfinished business".
Paul would like to thank his brother Nick and nephew Gareth for their hard work over the weekend.
Also a huge thankyou to Mark Busfeild, Pete Thundercliffe and the fantastic students at Bolton University for all their help with the pre-event setup of the car.
On-Board Race and crash footage