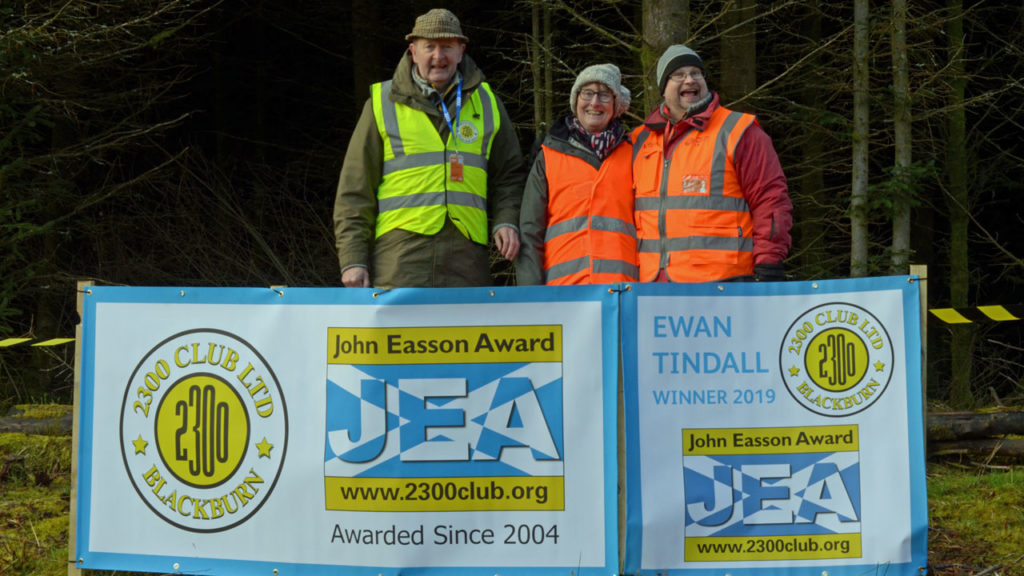 The 6.30 alarm didn't go off in room 122 in the Travelodge in Llandudno. Luckily we were awake, feeling the excitement, knowing it would be a big day. The Cambrian Rally, and storm Ciara.
The 11 strong 2300club marshalling team met in the hotel lobby at 7am with the usual banter of who would navigate to the stage start at Penmachno. With good directions and a frank Sinatra cd we arrived at the sign on point/stage start, to be greeted by one of our club mates Mark Wilkinson, who was stage commander. Once we had signed on we made our way through the stage looking for junction 16. Travelling through the forest we noted just how slippery the track was. It had a layer of damp greasy mud on top. "This is going to be fun" we thought!!
On arrival at junction 16, which was a crossroads, we found a safe place to park all our vehicles then proceeded to make a very fine breakfast of sausage, bacon and hash brown butties with hot coffee. A proper Marshalls breakfast considering the weather, very cold and windy. Fully fuelled we were ready.
The spectators came in their hundreds, many with cameras with long lenses. All behaved impeccably. There was a great atmosphere, despite the cold.
Then came the cars, and they didn't disappoint. The superb R5 cars blending the road underneath them. So fast, awesome to see. 2300club had a special interest in the proceedings. The 2011 John Easson Award Winner Osian Pryce was at car 4 in a Hyundai i20 R5; he came through looking very fast, neat & tidy, then at car 10 was the 2018 John Easson Award Winner George Lepley. He was in the blue WD40 sponsored Mitsubishi. Unfortunately he had stopped earlier in the stage to change a puncture. In order to make up for his lost time he was going at a good pace, but had a Proton hot on his tail!
Our main support this year was for Ewan Tindall in car 53, a Fiesta R2, who is our current John Easson Award winner. It has to be said we were all slightly concerned when car 52 came through, then higher numbers and then a very big gap. Has he broken down or was he off the road or even ok? There were still a few cars to come but would Ewan be one of them?
Then the sound of a rally car on full chat could be heard in the distance, then a Marshall's whistle and a white car coming into view. It was Ewan, we all beamed and cheered. Fantastic. He was going very well, nicely through the corner and away down the freshly blended road. We were all relieved and very pleased.
After the last car, the spectators made there way out of the stage, some even thanking us for our efforts, which was nice. It had been a pleasure. It was our job to clear the stage. This entailed removing the tape, stakes & arrows and any signs before we could leave.
By around 2pm we arrived in Betws-y-Coed to see the service and refuel points in action. Also time for a spot of lunch. Even managed to get a few nice photos in the service point .
We made it back to Llandudno still frozen to the bone, just in time for the champagne finish on the ramp. Osian Pryce finished in second place and got to spray the fizz with 1st and 3rd placed crews. There was a really nice atmosphere. George Lepley, multiple award winner, got his chance on the ramp.
Great event so far but would Ewan finish? We had agreed to meet him at the finish 45 minutes after the champagne presentation. The light was fading, it was raining, fingers crossed, we waited.
A White fiesta appeared on the roundabout, he pulled into the last control. We were delighted he had finished. Congratulations to Ewan for finishing a very tough, difficult event in 27th place.
Our job done, it had been a great day for us all. Ewan had to load up the car on the trailer and head all the way back to the northeast with storm Ciara bearing down. Our thoughts go out to the residents of Llanwrst who were very badly flooded overnight into Sunday morning.
We are all looking forward to our next outing.
Graham Ryding