As the dust settles on the fourth Andy Mort Tour, the 2300 Club can reflect on an event that proved an overwhelming success. All the ingredients were there: one of the best known names in rallying in attendance, two of the most famous Minis in the world, a record-breaking entry of 55 cars, and a fabulous route through Lancashire and Yorkshire – even the weather played its part.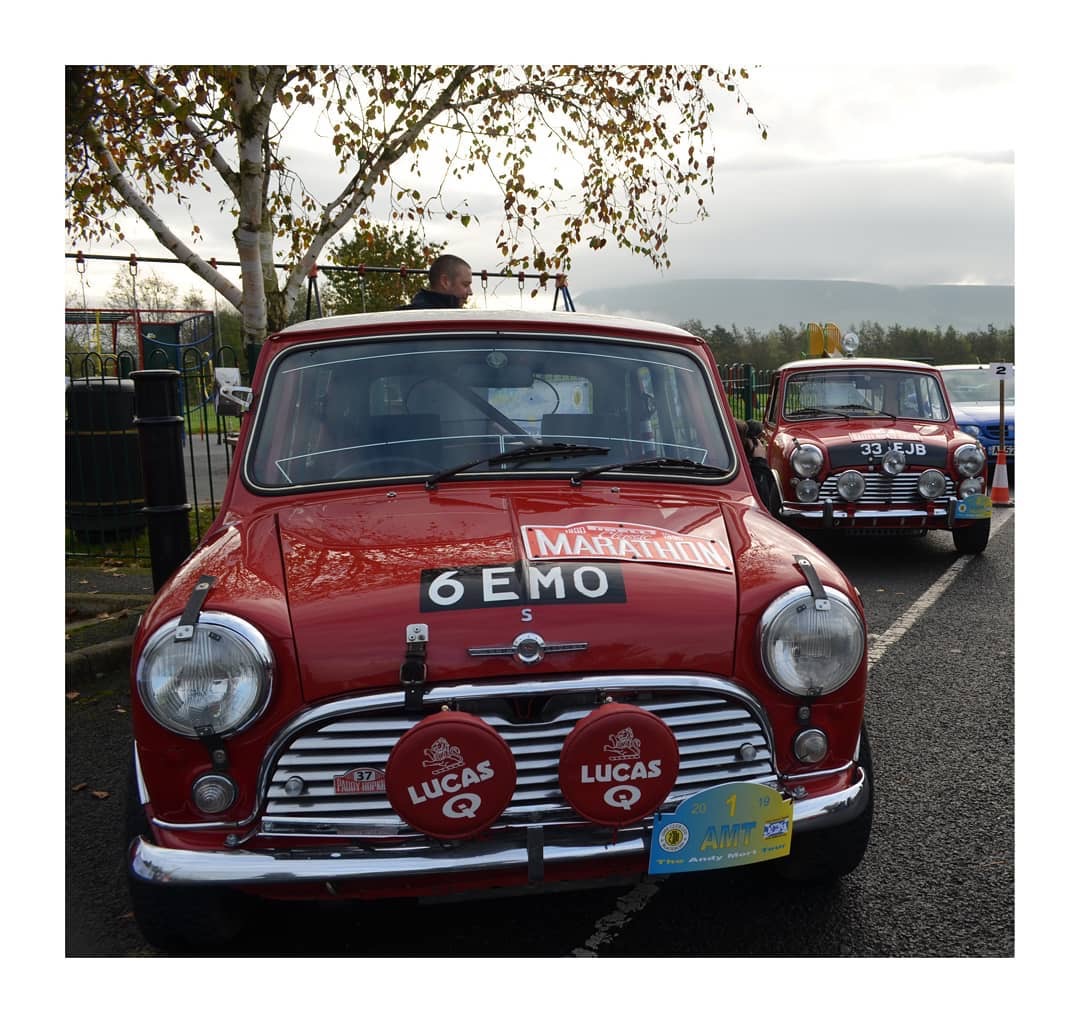 Thanks to support from Mini Sport and managing director Chris Harper, the club were lucky enough to have Paddy Hopkirk in attendance, flagging off the cars and greeting the finishers back at West Bradford Village Hall before entertaining a 150-strong audience with a talk on his life and career. First cars away were Paddy's two Mini Cooper S's, 6 EMO, in which he won the 1990 Pirelli Classic Marathon and 33 EJB, the replica of his 1964 Monte Carlo Rally winning car.
From Austin to Abarth and Stratos to Skoda, there was an amazing array of classic and modern machinery. The hubbub of interest and expectation began to mount as the crews arrived, all with back stories about their car – and themselves – to tell. For some, the drama started before the chequered flag had even dropped.
Fellsman Tour organiser and LAC member John Hartley nearly didn't make it in his Porsche, after being collected by a speedy cyclist whilst stationary in Waddington. Hartley and navigator Nigel Bentley had to call an ambulance for the injured rider, only continuing to the start once he had been treated.
Ahead of all the crews lay a 120-mile route through Lancashire and Yorkshire, meticulously planned by 2300 Club members Walter Bateson and Dave Barritt and their team, using a choice of tulip road book or maps. The tulip road book proved to be a brainteaser from the start, with several crews not realising that the first page was a sample route from last year and turned left at the first junction instead of right….
The opening section took in familiar territory of Sawley, the Nick O' Pendle, Sabden, Brierfield before heading across the top of Burnley down to Haggate crossroads and turning left towards Wycoller. There was a famous motorsport face at the second checkpoint near Wycoller Country Park, with leading WRC co-driver Daniel Barritt – and his mum Janet – signing the route cards.
Oakworth, Crosshills and Steeton and Addingham were next up on the signposts, but then a dreaded 'Road Closed – Diversion' sign created problems for crews – particularly those ones relying on the tulip road book alone. A detour through the centre of Otley saw the field pick up the original route to the lunch halt at Blubberhouses.
At least one crew ignored the diversion sign and carried on regardless. In a scene allegedly reminiscent of 'The Italian Job', Mini Sport's Michael Anderson and his son Ben took to the pavement in 33 EJB in their determination to stay on course – and on time. The post-lunch run took in some picturesque roads near Pateley Bridge and Greenhow before heading through Embsay and skirting around Skipton, rounding off with some of the superb road rally lanes around Lothersdale.
The route finished with an optional 'fun test' in the car park at Hanson Cement. Two abreast, cars were timed around a simple left or right dog-leg lined with cones and tape. Simple – except that the driver was blindfolded and had to rely on their navigator for precise instructions.
Several squashed cones and chewed up tape later, everyone was through and heading for the finish for a well-earned supper and Paddy's much-awaited talk. He might be 86 years old, and many of the stories and events we already know, but Paddy really can tell a tale or two.
Amidst gales of laughter from the enraptured audience, Paddy recounted his career in motorsport, starting out with autotesting in Northern Ireland, graduating to rallying with the Mini, the Monte, circuit racing and then later life with the family.
And he even took time out to wish Steve Entwistle and Mark Appleton all the best on next month's RAC Rally of the Tests, driving Paddy's own Cooper S, 6 EMO.
"Good luck to Steve and Mark on the rally next month, but we're not bothered about third or second, only number one", he said. So, no pressure there then….
As the evening wound up and everyone departed after a brilliant day of driving and socialising, the same four words could be heard everywhere.
"See you next year!"