The Club Champion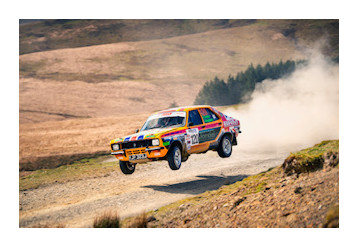 It was late November 2018 when it was announced that Lincolnshire's junior rally ace George Lepley had won the 2300 Club's 2018 John Easson Award. After entering the competition for 4 years, his persistence had finally paid off. George had shown some serious promise, having won the BTRDA 2wd Championship for the 2018 season. 2300 Club members, not to mention Award scheme manager Allan Durham, were all excited to see what George could bring to the 2019 season.
The new Award winner had planned to take part in the British Rally Championship 2wd with all things in place. Exciting times ahead for 2019 with the John Easson Award covering George's entry fees up-to a maximum of £5,000, with a bonus of £1,000 if he won the Championship. This would be a big help to George's finances.
Unfortunately by mid January his plans had fallen through with his main sponsor pulling out. All rally plans were shelved. It was also George's final year at university so he announced with great sadness that he would not be rallying for the first half of the year and would be concentrating on his degree. Although 2300 Club were disappointed they understood his predicament, but knowing what he was capable of would support him later in the year.
However just two weeks later, at the beginning of February, another door opened. A very different opportunity came from the BTRDA Championship headline sponsor Baz Jordan. He offered a historic spec, 8 valve Hillman Avenger to George for the Cambrian Rally. George grabbed this opportunity with both hands.
As it happened 2300 Club were marshalling on the Cambrian Rally with a strong turn out of 13 Marshalls, all dying to see this historic Avenger in action in George's capable hands. Positioned with the club's historic 40 year old banner, proudly sited on a decent bend on the stage, George's pace was truly outstanding. He looked very fast and was on a par with the modern cars. The results that day tell the story!
1st overall 2wd BTRDA silver star (includes modern 2wd)
1st overall Historic cup
1st overall Junior driver
Beating modern machinery with the historic car, was it a fluke or a sign of things to come?
Mr Jordan was more than happy with the results on the Cambrian, leaving the Avenger with George for the next event. 2 weeks later it was the Malcolm Wilson Rally based in Cumbria. The 2nd round of the BTRDA rally would have the usual early March treacherous conditions, proving a difficult rally for the Avenger. George had a few issues in stages 7 & 8 which put him just outside the top 10. Still an incredible result in such bad conditions, beating many modern 4wd cars.
11th overall (in the thick of the modern 4wd machinery)
1st 2wd Silver Star
1st overall Historic cup
Best presented car at scrutineering.
So another fantastic result. A theme is emerging with George and the Avenger getting along well!
April brought the Rallynuts Stages Rally in mid Wales, where things did not quite go to plan. Time was lost due to a differential problem, so George had to work hard to stay in the mix. But looking at the results you would never know:
1st 2wd Silver Star
1st overall Historic cup
1st overall Junior driver
The Plains Rally was next in May. Still in the Avenger, there was a chance of a Championship win, If the results kept coming. George lost time in stage 2 with a puncture but still managed 10th overall again against modern 4wd machinery. Brilliant result going into the mid season break. He found himself on the front cover of UK Rally Scene magazine, a mid season highlight.
It was also time to finish the Chemical Engineering Degree at the University of Nottingham with, you guessed it, another first.
Leading the Championship standings for most classes, it was back to business in the Nicky Grist Stages Rally, again in Wales. This was where the BTRDA Silver Star(2wd) and the Historic cup Championships were won, after just five of the seven rounds.
An incredible season, after the disappointment in January, to elation in July. Not only was George Lepley the star driver, he also made the little Avenger an unlikely star with fans of its own. George and the Avenger beat all the modern R2 cars, modern high power RWD cars and the best of the historic Escorts and drivers in the country. George commented "this car flies like a bird & entertains like a comedian" and I only originally borrowed it for one event! Time to hand it back to a very pleased Baz Jordan. With the Championship won, time to do the last two rounds in 4wd.
In August's Woodpecker Stages Rally George would compete in a Mitsubishi Evo 10 Clubman B13 spec car. Not quite the power of the WRC or R5 cars, but very capable, with the following results:
1st Gold star
2nd Overall
Proving he could not only challenge but beat WRC and R5 cars, he set 3 fastest times on 5 stages with pace, control and smoothness to beat the best drivers in BTRDA.
The final round was at Septembers Trackrod Rally Yorkshire. Seeded 3rd did prove that George was there to take on the big boys. Finishing the last stage with the fastest overall time. Results may have been better with a different tyre choice.
3rd overall
1st B13 (non R5/WRC)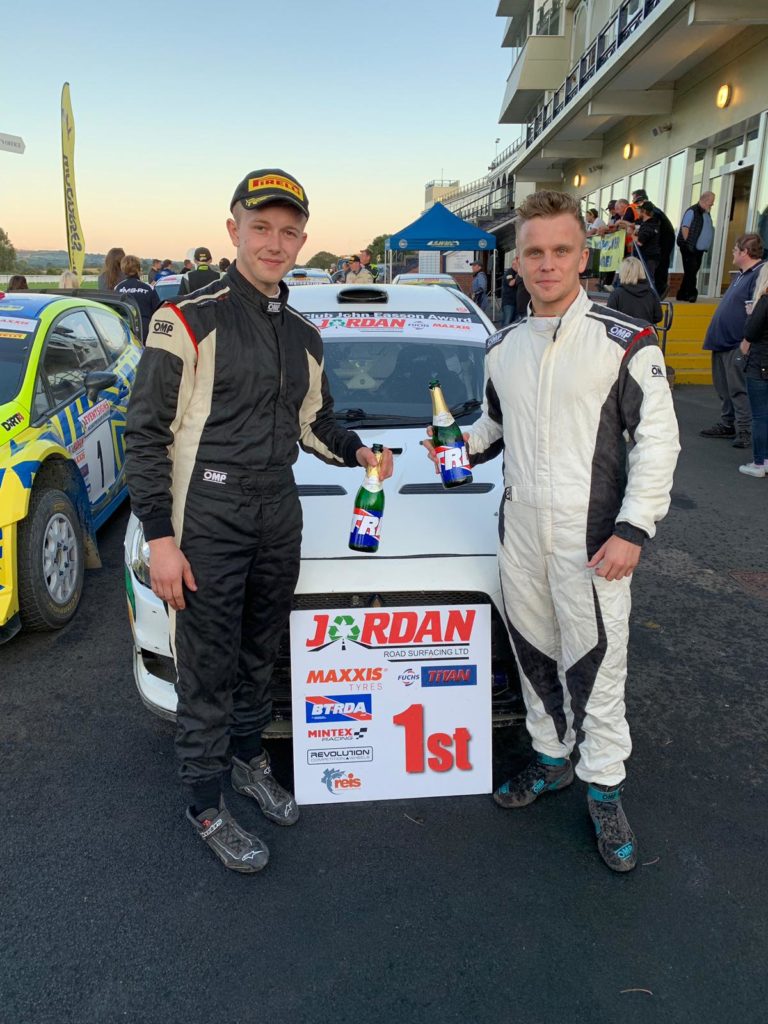 I don't think we will see a season as good as this for a long time. 2300 Club does not have a club champion, as it is a club of organisers, but George Lepley, wearing the 2300 Club John Easson Award Decals on his cars, certainly championed our Club.