Ioan Lloyd brought the curtain down on his debut season in the BRC with a performance full of promise.
The Cambrian Rally, based in North Wales, was the setting for the final round of the season, with the John Easson Award winner determined to finish on a high note.
Lloyd and co-driver Sion Williams retired from the penultimate round, the Trackrod, when the wheel studs sheared on their Peugeot 208R4, when in contention for the Junior BRC class.
And the pair made a brilliant start on the two-day event, claiming second place in the category after the opening pair of stages.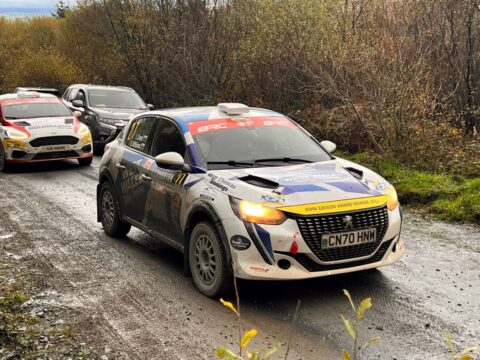 "Doing two tarmac stages with the car set up for gravel was interesting, to say the least," said Ioan.
"We had a slight issue with overheating brakes which we soon got sorted in service, but we went into day two, which was all gravel stages, full of confidence, and just nine seconds off the Junior lead."
"We had a good, clean run in the morning, and opened up a one minute lead before the afternoon loop. But then we suffered a broken driveshaft, and that was the end of our hopes for a first JBRC win.
"Heartbreak doesn't even begin to describe it."
Despite the anguish of a second successive retirement – with potential victory in sight – Lloyd was happy with his pace this season.
He said: "It's been a brilliant year, and we have met some fantastic people on a phenomenal journey. I'm really lucky to have been given this opportunity, and would like to thank everyone who has helped me on the way, my family, the 2300 Club and all my sponsors. We'll be back, that's for sure."
And the pair received fulsome praise from the newly-crowned British Champion, Osian Pryce.
He said: "Commiserations to Ioan and Sion, your Junior BRC win will come. Having watched you all year, the two of you have a very bright future ahead."