After winning the John Easson Award in 2019, Ewan Tindall should have spent 2020 enjoying the benefits of UK Rallying's top scholarship.
With a freshened-up Fiesta R2 as the weapon and the BTRDA Championship as the battleground, the talented North-East driver was looking set for a great season.
And he made a superb start, doing enough in the opening two rounds to lead the BTRDA R2 Rallye Cup.
But by mid-March it was effectively all over, thanks to the Covid-19 pandemic.
A solitary outing on the MSport Stages later in the year when the lockdown rules were relaxed ended in disappointment with a broken water pump.
It was decided by the 2300 Club's John Easson Award team to draw a line under 2020 and give Ewan a crack at another season with their full support.
The year would start slowly and with a great deal of uncertainty, but by April Covid-19 rules were relaxing.
Meanwhile, Ewan was making good use of the down time with the purchase of a more powerful Fiesta R2T and a decision to contest the Scottish Rally Championship.
The Argyll Rally opener saw Ewan and co-driver Andrew Roughead notch up a brilliant class win on the all-tarmac event. The next round, the RSAC Rally, ended in a ditch when the pair rolled out in very poor visibility.
Some impressive work by Ewan, his dad Lee and the rest of the team saw the Fiesta straightened out in time for the Grampian Rally, where all their efforts were rewarded with another class win.
But typical of their rollercoaster season, a blown turbo forced their retirement from the Galloway Hills Rally, although they had the consolation of setting some very competitive times.
The curtain came down on the season with a promising run on the Cheviot Stages, which only ended when a turbo boost pipe came off, Ewan and co-driver Rob Fagg opting to stop and preserve the car.
Despite their mixed fortunes, the 2300 Club have been impressed by his determination and speed behind the wheel.
"Ewan has been a great ambassador for the John Easson Award, and everyone at the 2300 Club wish him all the very best with his continued rallying," said club chairman Neil Molyneux.
That sentiment was echoed by outgoing JEA manager, Allan Durham, who said:
"Ewan has a great attitude, which is often missing these days. He is a great credit to the sport."
And Ewan expressed his gratitude to the 2300 Club for their support over the 2020 and 2021 seasons.
He said: "I would like to thank the 2300 Club, and award manager Allan Durham in particular, for their support over the last two years. Despite the start-stop uncertainty with rallying, it has been an honour to represent the John Easson Award.
"As for my 2021 season, it has been bitterly disappointing to have had so many troubles with the car, and not be able to do myself and the JEA as much justice as I would have liked on the stages.
"However, I have continued to learn and develop some valuable skills, especially on tarmac, which will help me through 2022."
photo by Owen Patterson
Ewan Tindall Announced 2019 John Easson Award Winner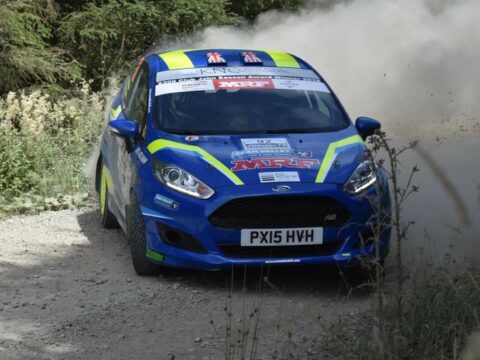 Early Exit for Tindall on the RSAC Scottish
Tough Time Schedule to make the Grampian Rally
Tindall back on the title hunt
More turbo trouble for Tindall on the Cheviot Stages
Below are more links to Ewans Tindalls in car YouTube videos also follow Ewans future progress on his Facebook page
In car video
RSAC Scottish Rally